"Dr. Hallerman's book is unflinching raw storytelling and experience, strength and hope honed by her deep seeing and learning. What I have learned and been helped by Dr. Elisa Hallerman to learn, is that in the end, it's about our Soul… Hallerman is a crucial voice for these unprecedented times.
"In this vividly written, page-turner of a memoir, Dr. Elisa Hallerman depicts how neither drugs nor glittering Hollywood glamor could satisfy her spirit's longing for true freedom. With unsparing honesty, she chronicles her own soul's journey home to itself from the depths of trauma and addiction, now enabling her to guide many others on their own path to liberation."
"A fearless, inspiring memoir peppered with some of the most insightful, soul-filled recovery wisdom you'll ever encounter. We could all use a little Soulbriety!"
"Soulbriety is a must-read for anyone committed to their own recovery and the people who love them. Elisa beautifully combines her addiction expertise with her own personal recovery to inspire and guide the reader. As a leader in Recovery Management, she is the perfect guide for individuals and family members as they navigate the path to recovery."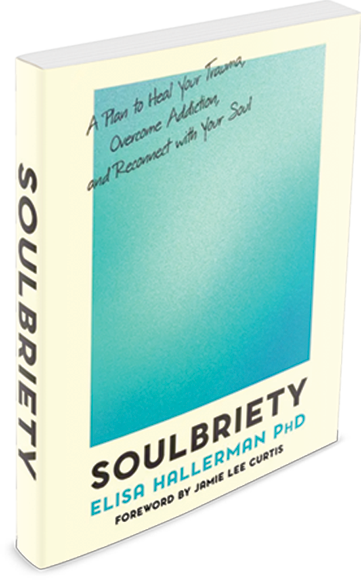 You may be at the precipice of breaking open, growing down or needing to be patient while the transformation takes place. But wherever you are, this moment is the perfect moment to commit to Soulbriety. Soulbriety is not a destination, but a lifestyle you can come back to over and over again. Life is hard, and pain and suffering is real. But I promise you, you will not break. You are stronger than you think. You have the inner strength to participate in your own healing. You can ask for assistance, and you are not alone.
My prayer for this book is that it will give you the confidence to take another step forward, show up another day and believe in yourself. Believe you can slowly transform. Believe that your life is worth living, even when you are when you have meaning and purpose. Believe that even in the darkest of times, you are being guided and held by soul. That you don't have a soul, that you are soul. Your inner world in an untapped landscape that is waiting for you.
I wish that someone had shared all of this with me when I was suffering from trauma before my addiction even got out of control. Listen for your calls to adventure, go back to your acorn and always lead from Soul. Create a life where regardless of what happens you are able not just to survive but thrive. If that is what you want – then I ask you to take a moment to wake yourself up and get to your healing, discover your journey and give back to others, your life is waiting for you. I cannot wait to see what you learn!
You are brave. You matter. You are loveable. I see you. You are Soul.
"Trauma leaves us with unbearable emotions, and in the beginning, addiction feels like the answer. In our drug of choice we seek the feelings of love and belonging we needed back then, when the traumatic events happened. These are innate human desires that were not, for any number of reasons, me and some part of us is still looking to get these needs addressed. Our medicine of choice—be it in drugs, alcohol, food, gambling or shopping—helps us escape the nearly insurmountable pain. At the time, it feels like the only solution. Unfortunately, at some point down the road we realize this solution is short-lived; that the very medicine we've chosen is a poison of its own."
"What if instead of looking for coping strategies, we reconnect with our soul as if our lives depended on it? What if we made our top priority to stay connected, draw inspiration and creativity from within, to allow it to guide us back to our authenticity? This is the role soul is meant to play in our lives."
"In opposition to the incessant demand on modern humans to grow up, soul's nature is to grow down, like the roots of a tree. To fully unfurl underground, drawing from the mystery below the nourishment we need to fully expand above."
10 Ways to Embrace Wholeness Every Day. Expert advice on how to cut through the noise and get in touch with your truest self.
Dr. Elisa Hallerman worked as a Hollywood agent when she started struggling with addiction. She authored the book "Soulbriety: A Plan to Heal Your Trauma,
Jamie Lee Curtis Says There Is 'Always Hope' When It Comes to Overcoming Addiction. Powered by what Curtis describes as Hallerman's "unflinching and raw